•
News
•
Creative Ideas to Bring your Stairs Back to Life
News
Creative Ideas to Bring your Stairs Back to Life
08 Mar 2022
Your staircase has one main role within the home, and that's to allow for navigation from one floor to another. But have you ever treated your staircase as the main feature in the house? With many staircases being positioned by entrances, an outdated and worn set of stairs can make for a poor first impression and sets the tone for the rest of the property to visitors or potential buyers.
Here at Input Joinery, we know how hard it can be to decide what design to go for. That's why we have a team of highly qualified designers and joiners who can help build a bespoke staircase that is functional and looks sensational as well.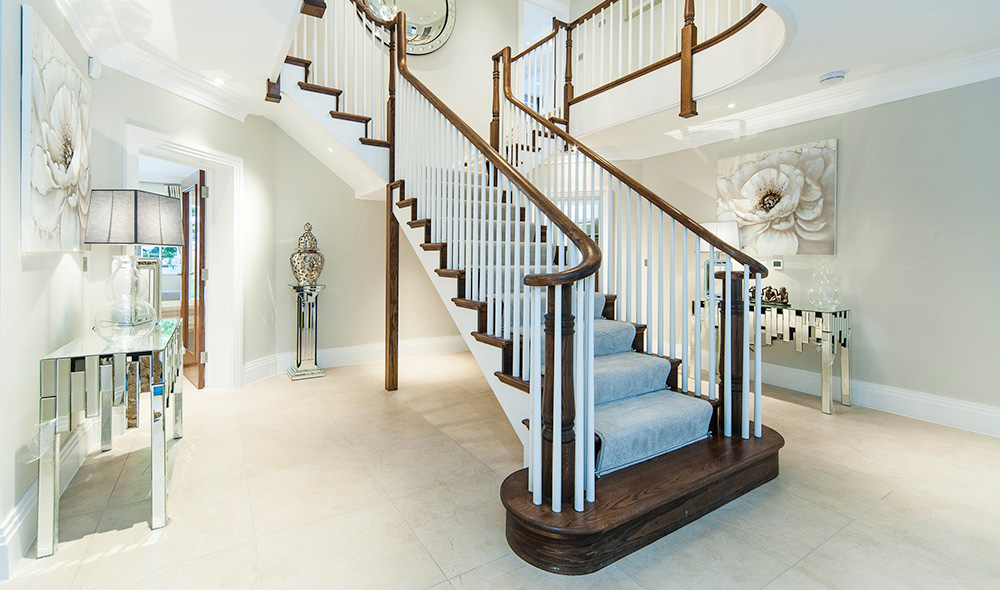 Variety of shapes and sizes
Just like houses, staircases come in a variety of shapes and sizes. Most homes will have a straight set of stairs that are practical, with aesthetics being a secondary consideration.
At Input Joinery, we don't believe that the visual elements are less important than the functionality. For this reason, our wide range of creative staircase solutions is worth taking some time to explore and consider.
Our bespoke cut-string staircases are a timeless, classic design that can dramatically change a hallway or room. This type of design leaves the tread nosing on your stairs exposed and shows off the detailing that perfectly highlights your choice of timber.
Open riser staircases are the perfect solution for increasing the flow of natural light in and around the stair location. Not only do they create a bright and airy feel, but they also help make the space feel much larger.
If you want to increase privacy between floors, adding an L-shaped staircase to your home will not only be more visually interesting, but can also create a barrier from unwanted eyes looking upstairs.
Are you looking for that extra "Wow Factor" or to add a touch of elegance to your home? A helical staircase, sometimes referred to as a curved staircase, is one of the most exclusive staircase designs. Its strong curvature creates a modern artistic look and can give your entrances a traditional grand opening.
Incorporate other materials
There are many materials you can choose to make your bespoke staircase stand out, and one which is leading the way in modern interiors, and that is glass balustrades. These beautiful, thick, laminated glass panels have the ability to create a seamless look and make the living space seem bigger whilst distributing natural light around the home.
Incorporating black steel balusters into cut string staircase design creates a modern decorative element that works well in a minimalist style home.
Light oak is a beautiful, traditional material that has the ability to blend into any interior space. It has been an interiors trend for a number of years and so it is no surprise that it is a favoured option for many.
Additional features
Something simple, yet impactful, that you can add to your staircase to give it that grand hotel feel is a feature step. These come in many different shapes and sizes, primarily determined by the space available and how creative you want to get. They are a great way to improve the flow into adjoining rooms.
If you're looking for that extra bespoke detail to make your staircase more personal to you, take a look at this past project we were commissioned for whereby we helped a customer with a tailored balustrade design. Adding additional shapes to the exposed balustrade allows sunlight to fall upon them and create a beautiful shadow pattern that gives the finished product a magical look. This is just another way Input Joinery can help make your staircase be the main focal point of your home.
Create your bespoke staircase with Input Joinery
Are you ready to take the first step in updating and creating a beautiful bespoke staircase for your home? Or maybe you have an idea that you would like to get an expert opinion on? Input Joinery has a dedicated and experienced team ready to help you with any staircase enquiries you may have. Get in touch with the team today and receive a FREE, no-obligation quote.
If you're not too sure where to begin, our 5 Things to Consider When Choosing a Staircase is a great place for information on how to get started with your staircase journey.