•
News
•
5 Things to Consider When Choosing a Staircase
News
5 Things to Consider When Choosing a Staircase
A staircase can be a design feature as you enter the home or simply a practical compact design used for accessing a loft or basement. Styles vary from modern angular designs with glass sides to traditional spindle stairs which sweep through an entrance hall.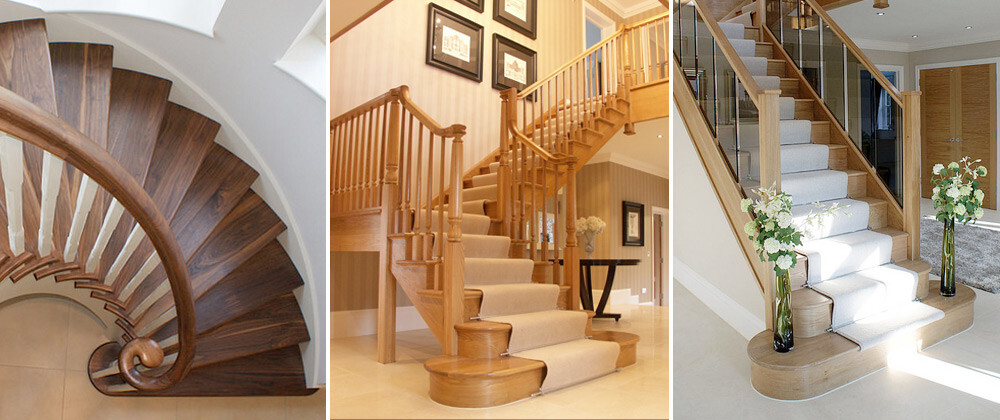 Remember, staircases don't have to be boring simply because they're practical! Here are the top 5 things to consider when buying a bespoke staircase.
Budget
If you have a maximum budget in mind, share this with the Input Joinery team. We offer a free quote so you can get the most from your budget and by working out a maximum budget, we can offer you a cost-effective solution for your project.
Safety
Safety is definitely something that needs to be considered when designing a staircase. Our team of expert designers can suggest extra safety features, whilst keeping the design of your staircase stylish. For example, a closed staircase may be favoured over a spiral style for a family with young children. All our staircases are designed with safety in mind and meet all the necessary building regulations.
Visual Impact
Look for inspiration before your design appointment and bring any images or notes you have to us. Pinterest is a great place for interesting designs and is bursting with beautiful images of staircases. If you need a little guidance with the different types of staircase offered, have a browse through the staircase section on our website to help you narrow down the best fit for your home. Our gallery of past projects is also a great place to get inspiration for your design. Remember, our team of experts can help you from start to finish, so don't worry if you are a little unsure.
Think about the style of your home and whether a modern design or more classic style would suit it better. A cut string staircase with detailed spindles can give a traditional feel to a property or maybe a closed string staircase with glass balustrades would help give your property a modern feel.
Storage
Depending on the space and the style of staircase chosen, it's good to think about including extra storage into your design. Adding cupboards under the stairs is a great way to utilize valuable space which would otherwise be left unused. Adding doors keeps everything hidden away and the extra storage is a great place to keep shoes, coats or even children's toys.
The Space
Consider the space and what great features you already have to enhance your staircase design. If you have a large entrance hall, a central feature staircase can give your home the wow factor with guests. Make the most of the natural light with an open style staircase which helps keep the light flowing across multiple floors or consider glass balustrading to keep the space open.
If you're looking to start your staircase project this year, get in touch with the team at Input Joinery to discuss your needs and receive a FREE, no obligation quote. Contact us on 01264 771900 or email us at [email protected].