•
News
•
'Step by Step' Staircase Design from Input Joinery
News
'Step by Step' Staircase Design from Input Joinery
24 Nov 2021
At Input Joinery, our staircases aren't just 'off the shelf' products – they are bespoke pieces built to specific customer requirements. That's why from the second your enquiry lands with us we will guide you through the stages. Take a look at what the process looks like with us when designing your own bespoke staircase.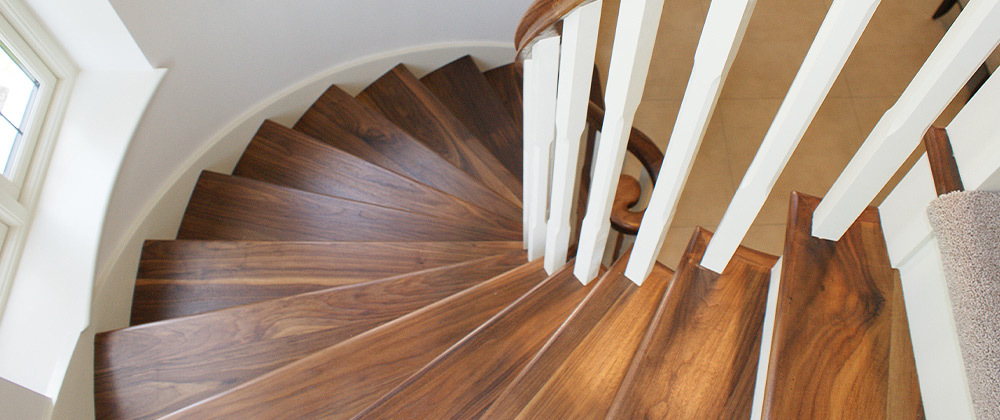 Initial Enquiry & Quote
Whether you email us, call us or even send us a letter, your enquiry will be passed onto one of our experienced sales team who will return the query with a phone call or email to acknowledge your request and to discuss your project in more detail if required. You can also call into our showroom to see our work for yourself and speak to one of our staff, or you can arrange for one of our sales team members to visit your site or project to get a better idea of the specific custom staircase you're looking for.
We use the latest estimating software to build our quotes which means you receive a full breakdown alongside an outline drawing and specifications. We can also use specialist 3D software to create digital models of your custom staircase, so you can visualise the final products and advise us of any tweaks or concerns you may have before the build stage. During this initial design stage you can make tweaks or additional requests based on the visualisation and costs we provide.
When you are happy with the quotation and the specification, we can look at progressing the order. When the order has been placed, we will arrange for one of our surveyors to attend the site to carry out full survey to ensure the staircase is custom made to suit the property. Our technical team then put together a set of final approval drawings for you to check through. Once you sign off the drawings, your lead time will commence and your hardwood staircase will go into manufacture.
Manufacture
The exciting part now begins – your custom staircase is with the production department, where the materials required will be ordered to the in-house timber store ready for manufacture. We use cutting-edge woodworking technology combined with our traditional joinery craftsmanship to create beautiful and detailed pieces of work for our bespoke staircases.
Our in-house timber store team first selects the timber required for your hardwood staircase. These are planed up and checked prior to being passed over to our specialist staircase joiners, who will start to assemble the staircase in our dedicated stair-shop. The relevant staircase components are manufactured on our 5 Axis CNC to ensure they fit perfectly, and are meticulously checked throughout the process to ensure they are of top quality. All handrails and bespoke components are designed by our technical team to suit the specification chosen on the staircase, and all other components will be machined/moulded by our stair-shop to ensure quality is maintained throughout the build process. Once assembled and final finishing touches are added, the staircase will be Quality Checked and packed ready for delivery out to site.
Delivery & Installation
Once the build of your bespoke staircase is complete, a member of the Input Joinery team will be in touch to arrange a convenient delivery time. If we are installing your staircase, our dedicated Contracts Manager will liaise with you to arrange timescales and installation dates.
Aftercare
Once your bespoke staircase is freshly installed in your property, the communication with Input Joinery doesn't stop. Our aftercare support is available should you have any questions or concerns about your new hardwood staircase. Our dedicated engineers can also carry out adjustments and maintenance – check your guarantee for more information.
Create Your Custom Staircase with Input Joinery
Our guide to the most commonly used staircase terminology is a great place to begin your journey, and then why not find some inspiration from London's best staircases? If you're ready to start the journey to design a beautiful bespoke staircase then get in touch with Input Joinery today. With over 40 years of experience our team can guide you through the process and help you create the perfect feature for your property – whether you have big ideas or need a helping hand to get started.