•
News
•
Modern Staircase Design
News
Modern Staircase Design
Your beautiful home deserves a beautiful, tailor made staircase. Built to your exact aesthetic preference and specification, Input Joinery has a wealth of experience in stair design, manufacture and installation.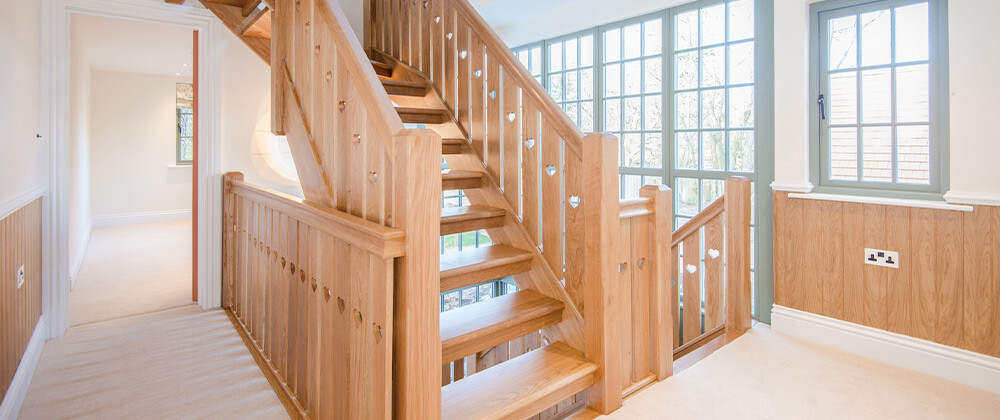 Open Riser Staircases
Opting for a wooden open rise staircase is a great way to invite light and space, adding a touch of minimalism to your home.
Pairing your open rise stair with a glass bannister enhances the sleek, modern aesthetic to your stair space, whilst choosing a wooden balustrade creates a traditional, homely feel.
From the staircase balustrade to the very last step, your staircase will be built using sustainably sourced timber by experts who value every detail.
Glass Bannister Staircase Design
For homes that struggle with space and natural light around the stairwell would greatly benefit from choosing a glass balustrade.
As well as creating the illusion of space and light, glass perfectly complements many materials. A glass bannister is a must-have for any home interior buff, effortlessly enhancing your home interior without casting heavy shadows.
Staircases featuring glass are strong, durable and easy to clean – ideal for family households. View our gallery for glass staircase inspiration.
Feature Wooden Staircases
No challenge is too big for our expert joiners and carpenters. We've had the pleasure to install stairs in the most abstract of places.
Our truly bespoke spiral staircase was built around the trunk of a tree, encompassing the natural beauty that is core to a woodland get-away. This magnificent feature stair makes a stunning focal point for this treehouse accommodation.
Staircase Specialists in Hampshire
From quirky to modern, to traditional, Input Joinery welcomes all design concepts and projects. Get in contact to begin your stair renovation.