•
News
•
Transform Your Home with our Unique Doors and Windows
News
Transform Your Home with our Unique Doors and Windows
11 Apr 2022
Spring has arrived and with that, the motivation to give your home an upgrade. While there are plenty of changes to be made indoors, paying careful attention to your home's external kerb appeal can go a long way when it comes to making your home appear more attractive. Your windows and front door play a huge role in both style and comfort, and choosing the right design is vital for creating a lasting first impression with both guests and passers-by.
There are many ways to transform a property but installing bespoke timber doors and windows is a highly effective method of giving your home an upgrade. We explore some of the unique windows and doors that can drastically enhance the look and feel of your home exterior.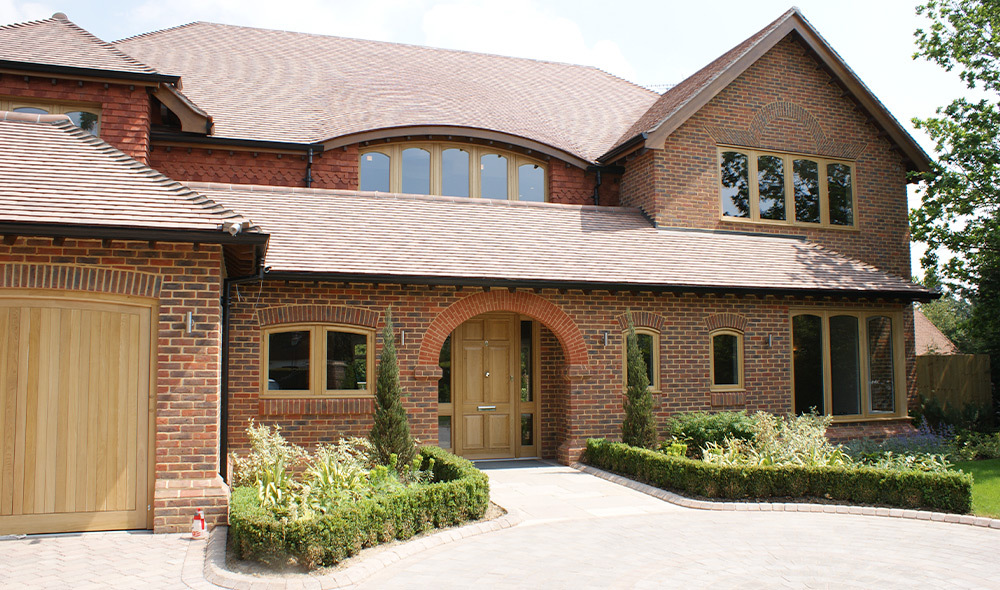 Unique Front Doors
When you see a particularly unique front door on another house, it can make you consider the look and style of your own. Fitting a brand-new door can speak volumes about what the rest of your home might be like inside, so it's worth investing in a premium product to make a good first impression.
The Power of Traditional Wood
A beautiful bespoke timber door painted in a smart colour with traditional polished brass ironmongery will give your home the luxurious look without being too ostentatious. Not to mention there are plenty of different woods to choose from that will suit you and your home style. Input Joinery can manufacture a vast range of traditional front doors using our 'Flush Casement' design. These can include Raised & Fielded Panelling, TG&V Boarding and Glazed Vision Panels.
Sleek and Modern
Why not add some extra flair to your home with a bespoke contemporary door? Typically, contemporary doors incorporate vertical or horizontal panels to create a modern look, however, our designers can adapt and create a door that includes a variety of elements to suit your taste. As well as doing their job of keeping your home safe, warm and quiet exceptionally well, our contemporary doors are easy to look after and require next to no maintenance.
Double up for Added Grandeur
Most homes will have a single-entry doorway, but have you ever considered upgrading to a double entryway? They create a focal point for the viewer, drawing the eye to this positive trait of the home and accentuating all other architectural features. It is more difficult to accomplish this visual contrast with a single-entry door.
Unique Window Designs
Windows do more than just let in natural light and fresh air. They can also act as an architectural focal point and contribute to the overall style of your home, depending on the design. With variances in both shape and function, there's a lot to consider.
Simple and Effective
Our traditional casement windows are a timeless and classic design that suits properties in conservation areas and for homeowners who like the charm and appeal of period property features. Manufactured in our Hampshire factory, all our traditional casement windows come with high-quality ball bearing butt hinges as well as a wide choice of stays and fasteners for the traditional cottage feel.
Traditional but with a Twist
If you're looking for a window design that has a mixture of unique style, period authenticity and modern technology, our concealed spring balanced sash window was created as an alternative to weights and lines windows while keeping the conventional sliding window look. Input Joinery's modern draught-strip technology and double-glazed units reduce heat loss, draughts and condensation for an easy-care, smooth and rattle-free window operation.
A Modern Feel
There are no rules when it comes to your home, but if you're wanting a more modern, sleek and simple flair, then making sure your exterior door matches your windows is important. Our oak aluminium casement windows are an excellent choice for putting a modern spin on traditional design. We use slim-line aluminium window frames for a larger glass area to allow more natural light into your home. These spectacular windows are designed to complement any style of architecture, blending in with traditional surroundings as easily as contemporary ones.
Transform Your Home with Input Joinery
If you are looking to update your windows and doors and you would like to discuss the available styles, colours and configurations, we are ready to help. At Input Joinery, we have been installing bespoke joinery products across Hampshire for over 40 years. Contact our expert team today or fill in our online enquires form. You can also visit our showroom to get a real feel for our beautiful product selection.