•
News
•
Tailor Made Windows and Front Door Refurbishment
News
Tailor Made Windows and Front Door Refurbishment
When it's time to replace your worn windows and doors, Input Joinery can help! Located in Hampshire, we use locally sourced timber to design and manufacture custom-built joinery products, from our bespoke front doors to our stormproof sash windows.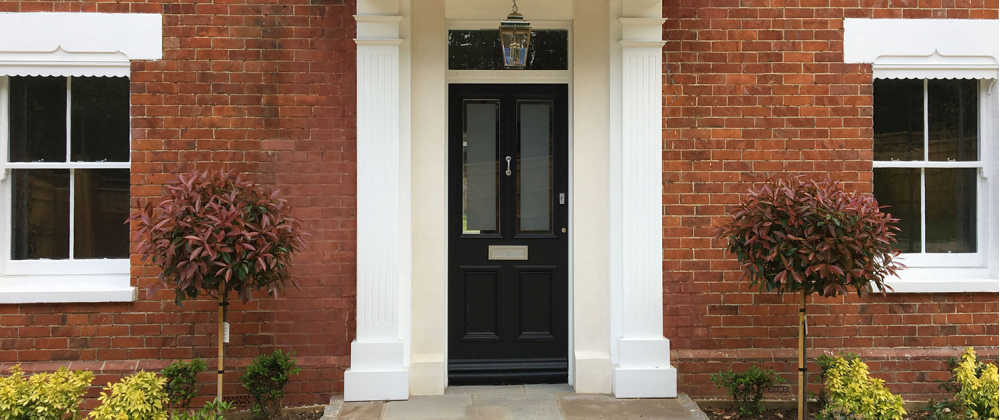 Input Joinery has the pleasure to work on many stunning houses across Hampshire, including this elegant detached house. By replacing the old windows and doors with new tailor-made joinery, we were able to renovate the property's exterior and interior.
The recently completed project comprised of new casement windows, which were designed with full height casements to let natural light pour through.
Made to Measure Timber Windows
The uniform double-glazed sashes create a cohesive aesthetic to the property, fully finished in our off-white shade.
All the pre-hung sash windows are fitted with a secure multipoint espagnolette locking system, ensuring smooth operation, optimal security and meeting the Part-Q requirements.
Adding more natural light to this traditional property was key. This particular window design offers a great solution for this, letting ample natural light into the home. Natural light not only enhances a rooms look and feel, but it also makes spaces seem bigger and feel more welcoming.
Bespoke Timber Front Doors
We replaced the tired front door with a custom feature front door in our standard dark grey finish, giving the property a modern appearance.
This bespoke contemporary front door features sleek silver ironmongery, enhancing the overall entrance. The door uses our AV2 locking system, adding a minimal look to the design without compromising on security.
Renovate your Home Exterior with Input Joinery
View more of our high-quality, tailor-made joinery projects in our dedicated projects area to discover how refurbishing your windows and doors can enhance your home.
To speak to our experienced and friendly team about your project, email us at [email protected] or call us on 01264 771900.