•
News
•
Welcome to our New Website!
News
Welcome to our New Website!
01 Jun 2022
We are very excited to announce the launch of our new website. The team have worked hard to refine the design and deliver an elevated experience for both our current and prospective clients. The aim was to create a website that better represents our core values, showcases our skill and expertise in bespoke joinery, and gives our clients a more immersive experience.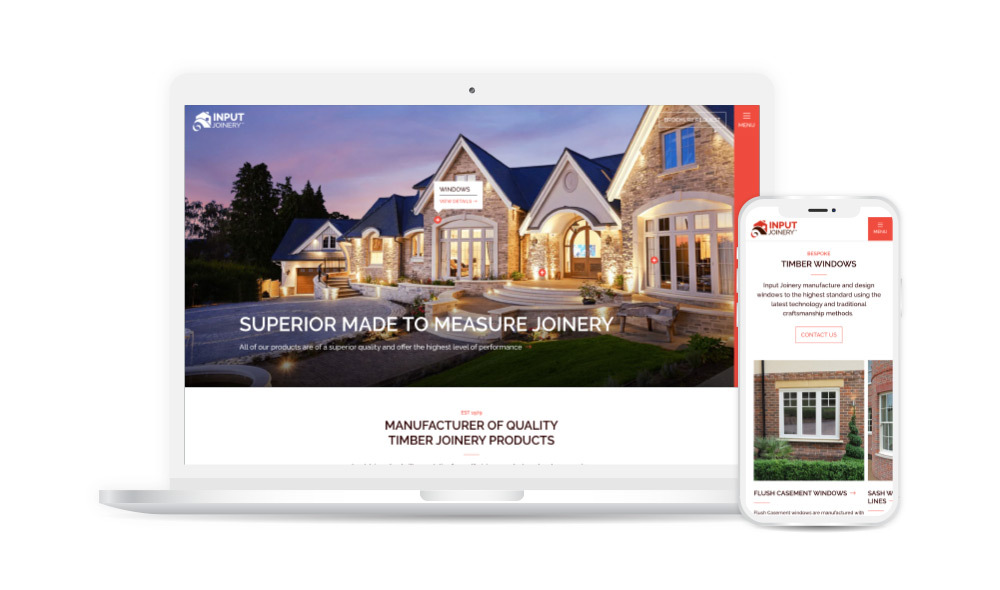 So, What's New?
To help our customers understand exactly what we do, the site includes extensive product and service information, with added projects and company information to provide a detailed overview of Input Joinery's capabilities and how we can supply our bespoke timber products to a wide range of homes.
Our Bespoke Joinery Showroom
All our superior quality joinery is manufactured in the UK in our purpose-built factory on the outskirts of Andover, Hampshire. Input Joinery has a purpose-built showroom available to view the quality and detail of our comprehensive joinery products. We like to welcome all our customers to our showroom. If a visit to our premises is not possible, take a virtual tour and explore from the comfort of your home.
Premium Paint Finishes
We have extensive experience with factory-applied wood coatings at Input Joinery, and we use one of the most advanced paint and finishing lines in the UK joinery industry. To complement your bespoke timber project, we offer a variety of colours and we have a page dedicated to displaying these in their purest form. See for yourself how the paint finishes could look on your bespoke timber product.
Brochure Request
Every project is unique, but maybe you need some inspiration to help you get started. Request an Input Joinery brochure and get a digital copy showcasing our timber windows, doors, staircases, and roof lanterns, sent straight to your email. They feature the very latest products, trends, and designs, as well as market-leading styles and high-quality timber that will bring new life to any home.
Enjoy the New Website
In addition to improving ease of navigation, our new website re-design focuses on sharing our company information and news stories in an interactive and creative way. This has led to the creation of a user-friendly, informative, and modern platform to share our company with you, keeping you up to date on all the fantastic projects we have worked on. We hope in doing this, visitors to our website will be able to gain an insight into the Input Joinery team and the diverse range of timber services we can deliver.
We will continue to renew our content for you with company announcements and project updates on our dedicated news page and you can also sign up for our monthly newsletter.
We hope you enjoy your visit to our new website and look forward to sharing our next steps with you.