•
News
•
Bring the Outside in with Bespoke Timber Bi-fold Doors
News
Bring the Outside in with Bespoke Timber Bi-fold Doors
01 Jul 2022
Timber bi-fold doors have the power to completely transform your home. They bring the outside in and make spaces feel larger, whether they're leading off a kitchen-diner, living room, or even a bedroom, they can be installed in almost any space.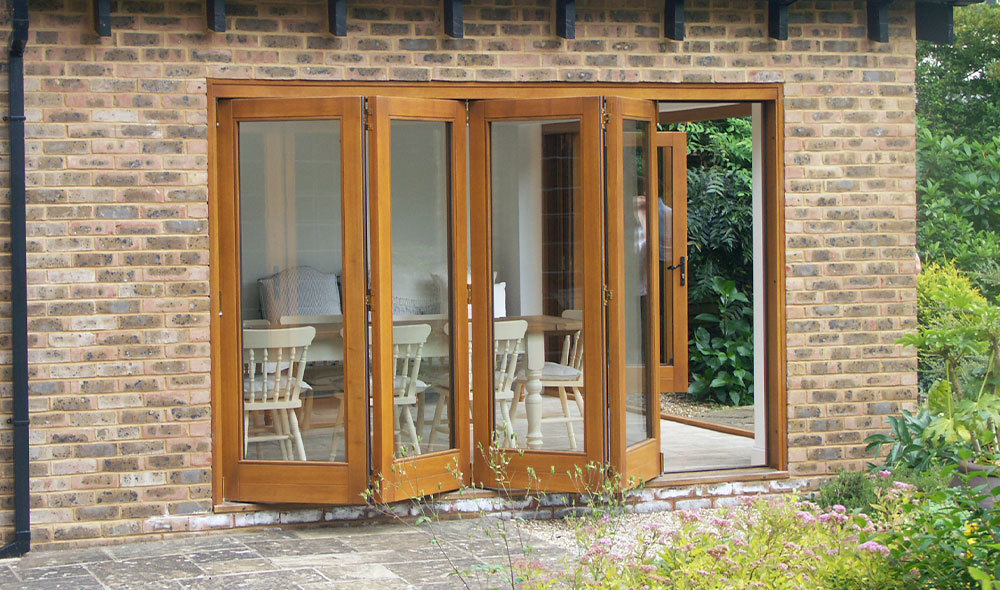 Timber bi-fold doors resemble traditional French doors in appearance, but instead of opening out like a regular door, they open in a concertina motion and neatly fold flat when open. They can be fitted into wider openings, take up less space when open, and effectively expand the room to the outdoors.
It's all in the detail
Style
Bi-fold doors give your home a modern and slick appearance on the outside, whilst providing a luxurious addition overall. They give your home a stylish feel and add a wow factor when you walk in. To complement your bespoke joinery project, you can select from our selection of mouldings, glass, and paint finishes.
Light
Bi-fold doors are commonly installed to provide access to a garden or to open the home to the outside. They are, however, an excellent solution for access to dark rooms in the home and making them feel lighter and airier. Timber bi-fold doors made by Input Joinery are an excellent way to take advantage of natural light sources, allowing warm sunlight to flood into every corner of the home and making the most of the spring, summer, and early autumn seasons.
Unrestricted views
If you've always wanted a garden room or a place to relax and enjoy the outdoors, bi-fold doors make it easier to connect your garden to your home. By adding timber bi-fold doors in your home they can bring outdoor and indoor spaces seamlessly together, creating a smooth transition from home to garden, allowing you to enjoy your outdoor space all year –even if it's too cold or wet to sit outside.
Safety
Not only are our stunning timber bi-fold doors functional, but they also feature the latest security features. These made-to-measure timber doors are manufactured in our Hampshire factory with the multi-point Espag locking system, with an additional security wall aligner jamb, ensuring your household's safety and peace of mind.
Bespoke Doors with High Standards
At Input Joinery, our bespoke joinery service means clients can design their dream timber bi-fold doors tailored to their requirements, making each product unique. Our beautiful timber bi-fold doors are factory glazed with factory-applied paint finishes, ensuring longer life and low maintenance. Contact us for a free, no-obligation quote today.