•
News
•
Frequently Asked Questions about Orangeries and Conservatories
News
Frequently Asked Questions about Orangeries and Conservatories
Here at Input Joinery, we often get questions relating to our luxury bespoke orangeries and conservatories. These range from the differences between them to how best to utilise the space. We've put together a list of our most commonly asked questions in order to help you make a decision when it comes to choosing your bespoke orangery or conservatory from Input Joinery.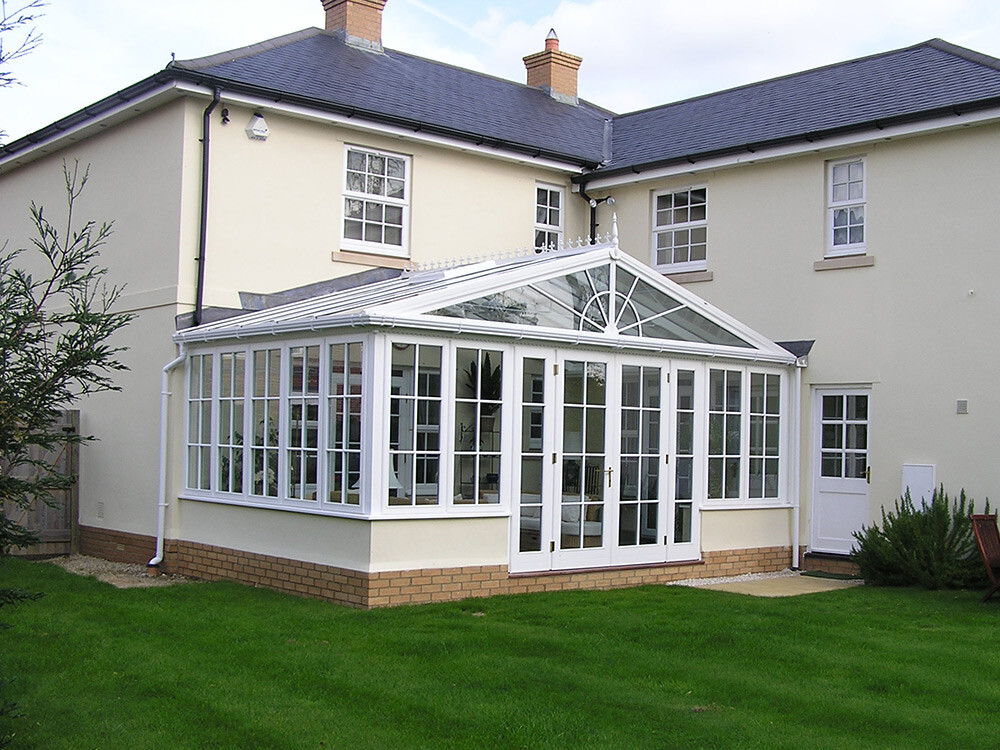 What is the difference between an orangery and a conservatory?
Generally, a conservatory is a predominantly glass structure with a pitched roof, whereas an orangery features large windows, a flat roof and a central roof lantern. Find out more about the differences between orangeries and conservatories in our blog.
Do I need planning permission for an orangery or conservatory?
This depends. There are certain dimensions and limits your orangery or conservatory must be within. If it falls within these parameters, then planning permission is not always needed. However, you do need planning permission if more than 50% of the area of land around the 'original' house will be covered by the new building, or if the new building is to the front or side of the 'original' house and faces onto a road. Input Joinery can help and advise you when it comes to planning your new orangery or conservatory from the very start, so get in touch to find out more.
Input Joinery would always recommend you speak to your local council before looking at building on your property.
Do I require building regulation approval for an orangery or conservatory?
For bespoke conservatories, there are exemptions from building regulation approval if certain conditions are met. These include but are not limited to:
Having a heating system installed that is independent to the main house
Being separate from the main house by either an external wall or windows
Not exceeding 30 square metres in floor area
Being built at ground level
Bespoke orangeries however do require building regulation approval, unless they meet the exemption requirements laid out for conservatories. Input Joinery can help with building regulation approval when making preparations for your new orangery or conservatory – speak to us today to see how we can help make planning your dream project stress-free.
Again, we would recommend you speak to your local council before undertaking any additional building works on your property.
Does an orangery or a conservatory add value to a property?
Definitely! Our orangeries especially are seen as an extension and will be classed as additional square footage during surveys. Potential buyers will appreciate the surplus space and opportunity within your home. The high-quality materials used by Input Joinery will ensure that the investment you make will stand the test of time.
How can I use an orangery or conservatory?
How you make the most of your new bespoke orangery or conservatory is entirely up to you! Luxury bespoke orangeries are seen more as an extension of the home and are usually more thermally efficient, so are often used all-year-round as dining rooms, living rooms, kitchen extensions and more! Conservatories tend to be more seasonal but make fantastic areas in which to relax and soak up the sun in summer, allowing you to entertain guests and enjoy your outdoor space from indoors. You can even use your bespoke conservatory as an area to keep those sun-thirsty plants!
Bespoke Orangeries and Conservatories from Input Joinery
Whether you already have a specific project and design in mind or just want to speak to our specialist team of joiners about your options, get in touch with Input Joinery today. With years of experience in building incredible bespoke orangeries and conservatories, we have the expertise to help you create the perfect additional space for your home, so speak to our team and make your dream a reality today.