•
News
•
Opulent Orangeries
News
Opulent Orangeries
Nowadays, the humble orangery is more commonly used as an extension of the home. From a study to a kitchen, the possibilities for a bespoke orangery are endless and are only confined by your imagination! However, the original use for orangeries was as the name suggests – a room or building dedicated to growing orange and other tropical fruit trees, offering them warmth and protection from the elements. We have taken a closer look at some of the most iconic and well-known orangeries which may offer you a little extravagant inspiration for your luxurious and bespoke orangery!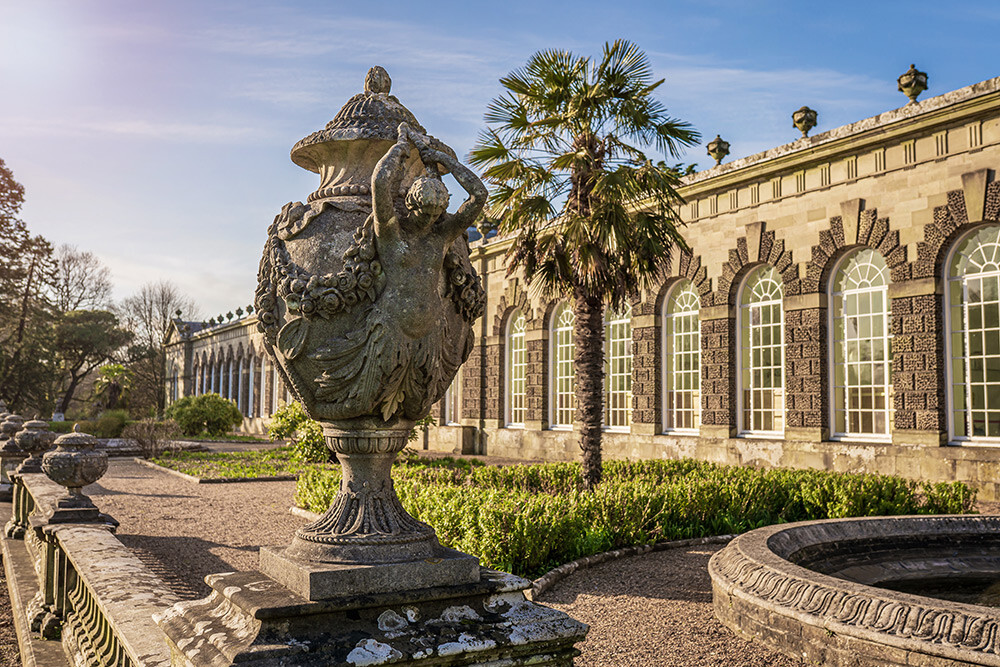 Margam Park
One of the most stunning orangeries in the UK is at Margam Park in Port Talbot, Wales. Built between 1786 and 1793, this magnificent feat of engineering housed the numerous orange, lemon and other citrus trees the park's owners inherited and is the longest orangery in Britain. Standing at a staggering 327 feet in length but only 30 feet in width, the narrow design allowed the light from the 27 tall windows to reach the full interior. Today the incredible building is used for weddings and other events, having been completely restored in the 1970s after a period of neglect.
Kensington Gardens
Located next to Kensington Palace, the bespoke orangery at Kensington Gardens was built between 1704 and 1705 for the future Queen Anne, by her older sister Mary. During summer when Anne used Kensington Palace for entertaining, the orangery held her extravagant parties as the citrus trees were relocated to enjoy the outdoor sunshine. The building was constructed with under-floor heating so was used in winter as a conservatory for the estate's citrus trees and delicate plants. Today, the building is used as Kensington Palace's restaurant, hosting elegant afternoon teas and offering guests a stunning view of the Palace and its gardens from the terrace.
Ham House
The orangery at Ham House in Richmond upon Thames is thought to be one of the oldest examples in the country, dating back to the 1670s. Slightly different in style, this orangery recalls classical Dutch architecture with cross bar style windows with small, diamond-shaped panes. Sadly, the building now retains none of its original 17th century features, such as its stove heating system, other than its long and narrow traditional architecture. Today the orangery is home to Ham House's café, which serves food made from produce grown in the house's extensive gardens.
Kew Gardens
The impressive orangery at London's Kew Gardens was built in 1761 and measures 28 by 10 metres. Originally built to house the Gardens' citrus plants, it was found to be too dark to provide the conditions they required, and the plants were instead relocated in 1841 to the orangery at Kensington Palace. After taking on numerous other guises, the building was finally reopened as a café in 2002, where it still welcomes visitors for lunches today, as well as being available for hire for functions such as weddings and meetings.
Versailles, Paris
This list wouldn't be complete without this stunning bespoke orangery from overseas. The orangery at the Palace of Versailles in Paris is flanked by the extensive Gardens of Versailles and is perhaps one of the most famous orangeries in the world. Built between 1684 and 1686, this breath-taking building was constructed to house the 3000 orange trees owned by Louis XIV and measures 155 metres by 13 metres – the largest orangery in Europe. Today the building is still home to a variety of orange, lemon, oleander palm and pomegranate trees from Portugal, Spain and Italy – and some of these are over 200 years old.
Your Own Bespoke Orangery
If you've been inspired to create your own indoor paradise, then get in touch with Input Joinery today to find out more about our orangeries. Whether you want somewhere to house your citrus trees or you simply want to create a stylish and unique extension to your kitchen, all of our orangeries are designed and customised from scratch to create the perfect space you need. Not to mention, the unique design of these buildings encourages that all-important natural light to fill your home. Here at Input Joinery we undertake luxury, bespoke oak orangery projects across Hampshire, Berkshire and the south of England. Get in touch with our team of Hampshire joiners today to find out more.