Over the many years we have been manufacturing staircases, we have seen different designs become more popular, depending on the latest fashion trend.
This project was completed for a reputable builder, the property located in Reigate, and incorporated a stylish staircase that combined a variety of design aspects for its final result.
Trends in Balustrade Designs
There have been phases where traditional designs that incorporate intricate twisted newels and spindles were very popular and, more recently, contemporary designs, including American Black Walnut and Glass.
One of the most popular designs in the last year has been the use of Wrought Iron balustrading. This style of balustrade is a handsome blend of traditional and contemporary, finishing in a timeless design which can be used in most styles of homes.
The Project
The project included 4 townhouses with three-level staircases in all properties.
The client originally had requested a simpler design utilising 'Stop Chamfered' balustrade components, but as the project developed we were approached to design something with a little more flair. After the client had researched ideas, they liked the look of panelled newel posts and wrought iron balustrading. We took their design requests and brought them to life in this finished design.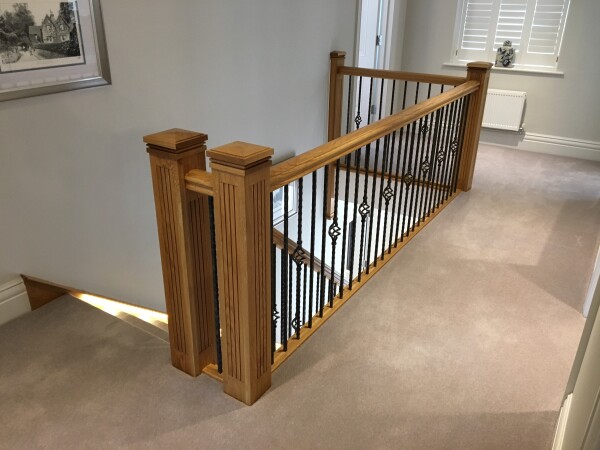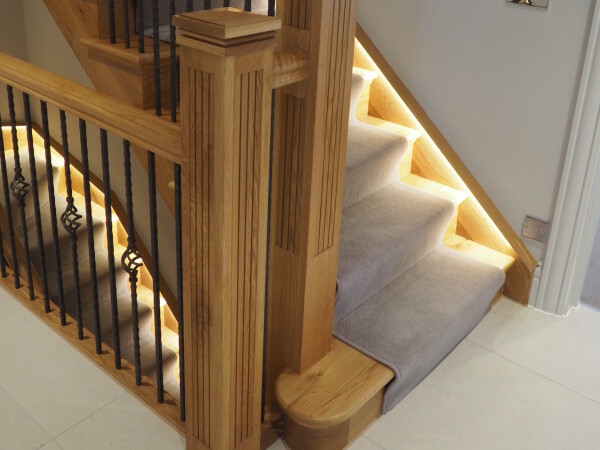 The American White Oak 'Cut String' design
The flights are manufactured in American White Oak to our 'Cut String' design, utilising our range for distinct mouldings to finish off these high specification flights. The newel posts were designed with a groove infilled panel within each face and were finished off with bespoke moulded newel caps.